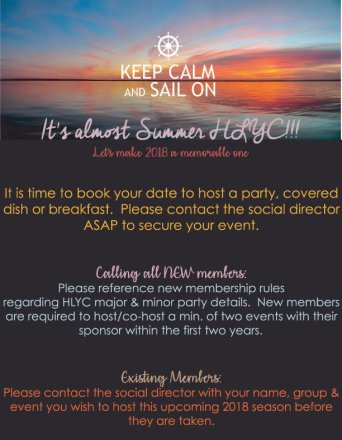 *All Events subject to change*

The club needs our members to volunteer to host parties, breakfasts, covered dishes, and picnics, or they are not going to happen.

If you can help out your club and support the membership by hosing a social function please contact our social director, Jenn Ronczka.
next up
COMMISSIONING DAY and the launch party on april 21st!
COMMISSIONING DAY­
Members storing boats must attend. Get the club ready for the season! Work starts at 9am
LAUNCH PARTY
Hosted by the Snyders. RSVP by April 14th. ­
MEMORIAL DAY PICNIC­ ­
Hosted by your Board of Governors. ­
JUNE CO-ED BUNKO PARTY
Hosted by Leamor and Mitch Wasik. Details to follow.
JUNE FATHER'S DAY BREAKFAST­
Needs host. ­
June Covered Dish and membership meeting
Hosted by Peggy Denmon and Barbara Aston. Details to follow.
July 4th picnic
Hosted by Old Man Watersports. Picnic is in the grove old school style.
July Breakfast
Hosted by Gunsters and Shoemakers. Details to follow.
JULY COVERED DISH AND MEMBERSHIP MEETING ­
Needs host. ­
2nd annual cornhole tournament­
Contact Jenn or Sarah to reserve your team.
August breakfast
Needs host.
August Covered Dish and membership meeting
Needs host.
RED SAILS PARADE
Sailboats leave at dusk.Light refreshments, hotdogs, and cookies served upon sailboats return. Needs host.
Labor Day Picnic
Needs host.
Uncle johnnie's 12th annual fishing derby
Starts at 1pm. Sign up will be on the bulletin board closer to the date of the event. Hosted by Uncle Johnnie (of course!)
DECOMMISSIONING DAY ­
Details to come. ­